Services and Pricing
In addition to training in Okinawan Shuri-Ryu Karate, we offer special opportunities including: Private Lessons, all levels of Women's Self-Defense, r.a.d.KIDS Courses, and Karate Birthday Parties!
Private Lessons
Private Lesson Details:
You, as the Private Lesson student and family, will have the opportunity to determine the Private Lesson material. This is your lesson and you may choose from the requirements up through your Rank (kyu) OR choose from your level of Self-Defense (Beginner, Intermediate or Advanced).
The advantages of Private Lessons include:
* One on One Student Teacher Ratio
* Training in a Quiet, Focus-Driven Environment
* Addressing Specific Challenging Material
* Improve, Fine-Tune, and Strengthen Skill
* Increase Understanding of Specific Techniques and Their Application
Private Lessons are not a requirement for advancement!
Private Lesson Reservation Information:
If you are interested in reserving a Private Lesson for Karate or Self-Defense, please see availability schedule below and then contact Sensei Kaufman.
Although a Private Lesson time may appear available, it may have already been reserved. Only those reservations made directly through Sensei will be honored.
Private Lesson Payment:
Payments should be made at the YMCA Member Service Desk only AFTER you have scheduled your lesson(s) with Sensei Kaufman.
There are discounts when purchasing packages of three or more lessons. Please be aware that there is a YMCA expiration date on all Private Lesson Coupons. For more information about Private Lessons and Discount Packages, contact the YMCA Members Service Desk at 419-251-9622.
Private Lesson Availability:
Sensei Kaufman will try her best to meet your special scheduling needs. The YMCA accommodates many wonderful programs leaving few areas unoccupied.
Below are the Karate Program Private Lesson Time Slot Opportunities:
* Sundays 12:00pm - 2:00pm
* Sundays 3:00pm - 5:00pm
* Tuesdays 4:00pm - 5:30pm
* Other availabilities by special request
Private Lesson Cancellation Policy:
In the event that either you or Sensei Kaufman needs to cancel due to illness or a conflict of schedule, either party will contact the other party at least 24 hours in advance of the scheduled Private Lesson time. Please make certain Sensei has your phone number and e-mail.
r.a.d.Kids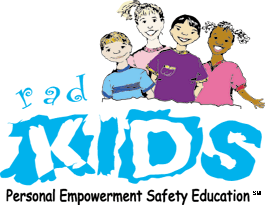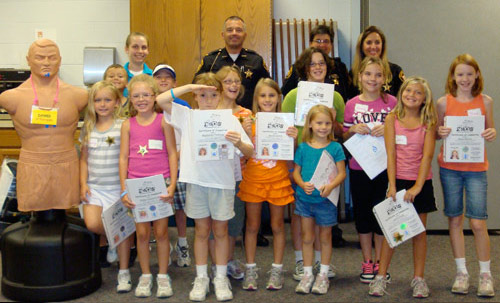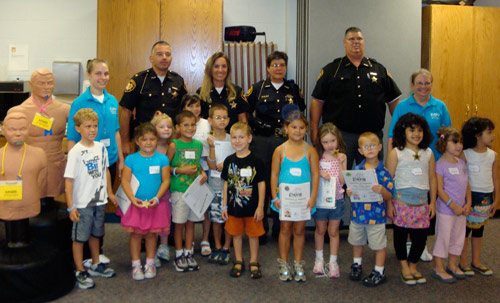 At the 2005 International Martial Arts Symposium, a Samurai challenged each black belt in attendance to begin a Youth Self-Defense program at their own dojo in response to recent abductions and tragedies that have happened to the youth in our country and around the world. Upon return, Sensei Kaufman immediately sought and found a program out of South Dennis, Massachusetts called "r.a.d.KIDS® ". In 2005 she traveled to San Diego, California where she became certified as a r.a.d.KIDS® Instructor.
r.a.d.KIDS® stands for: Resisting Aggression Defensively, a Personal Empowerment Safety Education Program for youth. This program is recognized by and aligned with: The National Center for Missing and Exploited Children, America's Most Wanted, The Polly Klaas Foundation, and Family Watchdog (to name a few).
Each year Wood County Sheriff Mark Wasylyshyn sponsors a summer r.a.d.KIDS® camp. To date, we have taught over 100 Wood County youth the knowledge of avoidance and lifesaving skills and techniques to prevent and escape abduction! Much credit must be given to Sheriff Wasylyshyn for his foresight in educating youth before a situation, rather then just being there after the fact. Sensei Kaufman is as equally determined as r.a.d.KIDS® in, "Making a difference one child at a time."
For more information on r.a.d.KIDS® , visit: www.radkids.org.
Contact Sensei Kaufman if you are interested in setting up an 8-10 hour r.a.d.KIDS® training camp for: your kids and relatives; a group from your neighborhood, school, or church; 4H troops; Brownies or Girl Scouts!